In this post, I am going to show you the most common Types of Pants there are and the elements that make them so different from each other.
Learn the name of the favorite bottom garment of anyone's closet and add them to your shopping or sewing list.
Are there any types of pants that aren't here? Let me know in the comments so I can add it to this list.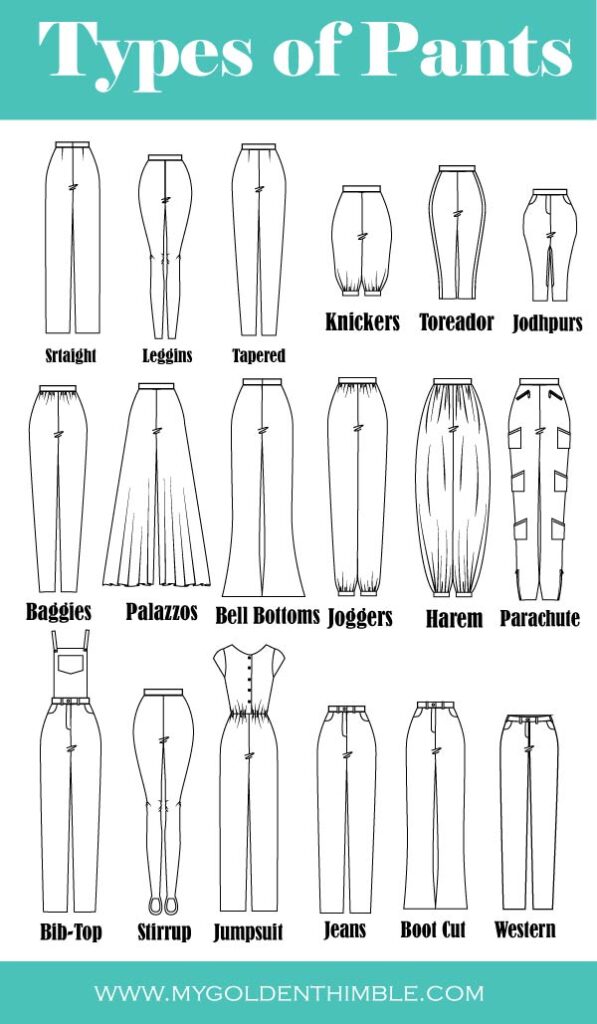 Can you even imagine not being able to wear pants?
That was once the case for many women! We had to wear yards and yards of uncomfortable layers of fabric.
Meanwhile, they were men riding horses, fighting wars, and just being able to walk and sit comfortably… With pockets!!!
Luckily, that's not the case anymore.
Pants are now a universal garment as all garments should be!
I can't certainly imagine one day in my life without having my comfy pajama pants or peg shorts.
All thanks to designers, history, and the fashion revolution.
I want you to know that one of the first appearances of pants in history was found in Persian and Anglo-Saxon Men.
When you read the dictionary of fashion, they say that they weren't called "pants" until the late 19ths.
Slacks (pants) for women only become popular until 1930 after Hollywood stars became to use them.
As a result, now they are a basic part of everyone's wardrobes.
There is some type of pants that will fit better with your figure shape and that is why you should know them all.
TYPES OF PANTS PARTS BY NAME
The pants are a piece of clothing that covers the lower torso to fit each leg. They can be of any width and length and have or do not have cuffs.
These are all the components of classic pants.
Waist Band
Belt Loop
Pockets
Fly
Crotch
Inseam
Side Seam
Hem
Leg Opening
TYPES OF PANTS LENGTHS BY NAME
Depending on the length of the leg of the pants they will have different names.
Boy shorts- Also called short shorts or hot pants. You can get them with a hem them 1" or 1 ½" below the crotch.
Jamaica- Mid-thigh length shorts. They fall between Bermuda and the boy shorts.
Bermuda- Knee-length pants with a loose fit.
Surfer- Thigh-fitting pants at the end of the knee.
Decks- Fitted pants with a hem below the knee. You can also call straight-cut pants Pedal Pushers.
Clam Diggers- Mid-calf pants with straight or fuller cut, cuffed.
Seven Eights- This is any style of pants finished just below the calf of the leg.
Capri- Slim-legged pants that end several inches above the ankle.
Classic- Full-length pants. Usually, have a centered front zipper closing. This fits at the waist with darts or pleats. You can also call them trousers.
TYPE OF PANTS
1. Straight
Slim-legged pants with a leg circumference of less than 18". You can also call them stovepipe pants.
2. Tapered
Ankle-length pants that become narrower near the hem.
3. Leggings
These are comfortable body pants made from knit stretch fabric. It fits close to the legs, and it has negative ease.
4. Jodhpurs
Riding pants with drop-front or zipper closing.
They have a rounded, fuller shape at the thighs, narrow legs, and a straight cut below the knee.
5. Parachute
Pants with zippers on the outside of the legs from the hem up to the mid-calf.
You can find zippered pockets placed in the form of patch bags on the side of the legs.
6. Bell bottoms
Fitted at the waist, wide from the knee to the hemline on both inner and outer seams.
You can also find a variation called elephant bell with a much wider hem circumference.
7. Joggers
Traditional sportswear pants that you can make with comfortable and lightweight fabric are usually knit.
You will find them comfortable thanks to the gathered waist/hip hemline and at the ankles.
You will see cuffs at the end of the legs of the joggers.
8. Knickers
Tailored knee-length pants with fullness gathered at the knee or below knee height. Finished with cuffs.
9. Harem
Very full pants gathered at the waist and the ankles.
It finished with a waistband and cuffs on the ankles.
On the other hand, if they are knee-length, they are called Zouave. 
10. Toreador
The tight-fitting pants end just below the knee and usually have braids trimmed down the sides.
11. Baggies
Pants that are wide at the hip and narrow at the ankle. Width at the waist or hip raise is gathered or pleated. These types of pants are also called peg legs or peg-top pants.
12. Palazzo
Long-length pants with a very wide flare from the hipline to the hem.
13. Jeans
Close-fitting pants with western pockets in front. Yokes and patch pockets on the back.
They are usually made of denim. In conclusion, they are called denim jeans.
14. Western
Low-waisted slim pants with jeans-style fitting and with pockets.
15. Boot Cut
Pants or Jeans cut wide enough at the hem to be worn on the outside of a pair of western boots.
16. Bib-Top
Pants with a rectangular piece attached at the waist and held with shoulder straps.
The bib may or may not have pockets. However, they are also known as overalls or painter's pants.
17. Jumpsuit
Combination of pants and shirt or blouse in one piece.
The original jumpsuit was first made to use parachutes.
18. Stirrup
Close-fitting pants are made with stretch fabric that has tapers at the ankles that are worn under the arch of the foot to keep the pants in their place.
They are similar to leggings.
19. Bloomers
Full pants of any length are gathered at the end of the legs.
A long time ago, women wore them under skirts for small children and women.
20. Boyfriend Jeans
Pants with a relaxed fit through the thighs and seem like a girl would be wearing her boyfriend's pants.
21. Cargo
Any pants with cargo pockets sewn on the sides of the legs.
You could commonly see them in the military.
And now everyone wears them as a fashion statement.
22. Chinos
Pants made of chino fabric, commonly khaki-colored.
Use them as casual day attire and have a straight cut.
23. Drawstrings pants
The easiest pants to wear. Pull-on pants are made from cotton knit fabric with a drawstring on the waistband for better fitting.
24. Gaucho
Wide, calf-length pants. They are similar to what we called culottes.
25. Mousers
Women's leather stocking pants reaching to the waist, made of shiny wet-looking leather.
The key thing about these types of pants is that you will see them attached to chunky-type heels shoes.
26. Pull-on pants
Stretch pants with an elastic waist. These types of pants don't have plackets or a fly.
27. Sailor Pants
These pants used to be made in bell-bottom style.
They have seven buttons on the front sides that go down vertically from the waist down. 
28. Skinny Jeans
Blue jeans that are cut with very narrow legs.
They are made with stretch denim so they can fit and move with you as you move.
29. Tuxedo
You will find these conventional black trousers in conjunction with a tuxedo jacket.
Men and women use them for formal events.
30. Track pants
Flat-front with a straight cut.
You can use this style of pants as running pants and pull them up with the elastic waist.
They may have zippered bags on the outside.
Now you know all of these types of pants. Tell me how many of them you have. How many of them have you worn or sewn? Tell me all about it in the comments!